My girlfriend Cheysuli is a big time political star. She is running for President in 2008 and she is going to win. She's smart, savvy, very meezerly. I'm so proud to call her my Valentine and I can't wait to be the "First Man Cat". This is for you my darling!
I'm sure most of you know that Siamese Cats (meezers) have very loud distinctive voices. In my house instead of meowing we call it "meezing" when I speak. So here it goes!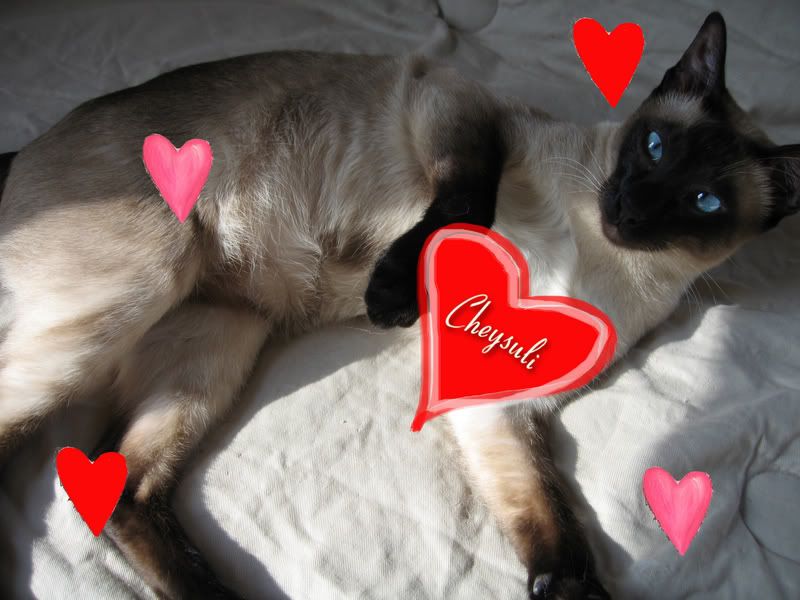 Meeze
(To be sung to the tune of "Breath" by Faith Hill)
I can smell the nip floating in the air
Being with you gets me all frisky
I watch the sunlight dance across your chocolate face and I've
Never been this friskified.
All my thoughts seem to settle on the breeze
When I'm snuggling in your paws
The whole world just fades away
The only thing I hear
Is the beating of your tail
'Cause I can hear you meeze
Its calling out to me
Suddenly I'm snuggling with you
Theres nothing left to prove
Cheysuli all we need is just to play
Caught up in the game
The slow and steady stalk
Cheysuli, isn't that the way that loves supposed to be
I can hear you meeze
Just meeze...
In a way I know my heart is waking up
As all the dishes come crashing down
I'm closer than Ive ever felt before
And I know
And you know
Theres no need for purrs right now
'Cause I can hear you meeze
Its calling out to me
Suddenly I'm snuggling with you
Theres nothing left to prove
Cheysuli all we need is just to play
Caught up in the game
The slow and steady stalk
Cheysuli, isn't that the way that loves supposed to be
I can hear you meeze
Just meeze
Caught up in the game
The slow and steady stalk
Cheysuli, isn't that the way that loves supposed to be
I can hear you meeze
Just meeze
I can smell the nip floating in the air
Being with you gets me all friskified
Our Contact Info:
Latte's Blog
Cheysuli's Blog
(which she is in the process of switching so check back if it doesn't work)